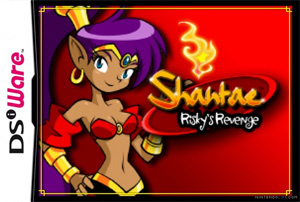 Shantae
's second game available on DSi, 3DS, iOS devices, PC, and PS4.
Risky Boots
(obviously) wants revenge on Shantae. At the start of the game, Risky steals a
magic lamp
and defeats Shantae, causing her to be fired from being the town's
Guardian Genie
.
Shantae: Risky's Revenge
Items, Relics
& Artifacts
Forms
Places
Labyrinths
Bosses
Articles
Ad blocker interference detected!
Wikia is a free-to-use site that makes money from advertising. We have a modified experience for viewers using ad blockers

Wikia is not accessible if you've made further modifications. Remove the custom ad blocker rule(s) and the page will load as expected.