Risky's Revenge



Risky's Revenge DSiWare icon

Developer(s)
WayForward Technologies
Publisher(s)
WayForward Technologies
Platform(s)
Nintendo DSi (DSiWare)
iOS
Microsoft Windows (Steam)

PlayStation 4 Wii U

Release date(s)
October 4, 2010 (North America, DSiWare)
February 11, 2011 (PAL Region, DSiWare)
October 27, 2011 (Worldwide, iOS)
July 15, 2014 (Worldwide, Steam)

June 23, 2015 (Americas, PlayStation 4)
March 24, 2016 (Wii U)

Genre(s)
Platform game
Mode(s)
Single-player
Distribution
Download (DSiWare, iOS, Steam)
Director(s)
Matt Bozon
Producer(s)
Chris Watson (executive producer); Matt Bozon
Designer(s)
Matt Bozon
Programmer(s)
Michael Clasgens, Nate Trost
Artist(s)
Nick Wozniak, Henk Nieborg
Writer(s)
Matt Bozon
Composer(s)
Jake Kaufman
Shantae: Risky's Revenge is the second game in the Shantae series. 
The game is on the Nintendo DSi's DSiWare shop (also part of the Nintendo eShop), released in North America on October 4, 2010 and later in all PAL regions barring Australia and New Zealand on February 11, 2011. It was later ported to iOS devices, went live on Steam Greenlight[1] and was released on PC on July 15, 2014 in a Director's Cut edition.[2] The Director's Cut edition was later ported to PlayStation 4 on June 22, 2015 and the Wii U on March 24, 2016.
Shantae: Risky's Revenge is the sequel to the Game Boy Color video game Shantae and is followed by Shantae and the Pirate's Curse, and Shantae: Half-Genie Hero.
As the title suggest, Risky Boots wants revenge on Shantae. At the start of the game, Risky steals a magic lamp and defeats Shantae, causing her to be fired from being the town's Guardian Genie.
Things had been quiet in Scuttle Town since Shantae's clash with the pirate Risky Boots. During the annual Relics Hunters Expo, she and her friends see fellow Relic Hunter Uncle Mimic unveil his latest find: an ordinary-looking lamp encased in stone. Just as they begin to wonder what it is, the notorious Risky Boots crashes the expo and steals the lamp. Despite the quick battle, Shantae is knocked out, allowing the vengeful pirate to get away. Blaming the half-genie for the town being in disarray and failing to do her job properly, the Mayor of Scuttle Town fires her as the town's guardian.
Despite no longer being a Guardian Genie, Shantae still decides to take responsibility to stop Risky Boots' newest plot. Is there more to this mysterious lamp than one expects? And what does the evil pirate intend to do with it?
Development
Edit
Risky's Revenge was intended to be an episodic game. It was eventually decided to make it single self-contained game. Some aspects of the full episodic game may be found in a few early screenshots, however. Early screenshots show new enemies and several returning enemies from the original game (including an enemy Harpy), as well as new and alternate locations.
The most interesting screenshot is of a snowy mountain location with Shantae battling wizards. It shows numbers floating in the air as Shantae attacks an opponent, suggesting variable damage and therefore more RPG elements (similar to Konami's Castlevania series, which uses an identical damage indicator) than made it into the final product. The setting of the screenshot is also of interest - its cloudy mountain peaks strongly resemble those of an island that can be seen in the background of all coastal areas in the final game.
The music was once again composed by Jake Kaufman, who composed the first game's music as well. On September 27, 2010 the complete original soundtrack was released on Kaufman's Big Lion Music and BandCamp websites, with people having the option to either pay or download it for free.[3]
On September 20, 2013 in the iOS version, as a promotion and preview of the "Costume Swap" stretch goal for Shantae: Half-Genie Hero, Shantae received an alternate dancer costume. This costume gives Shantae more magic but gets more damage.[4]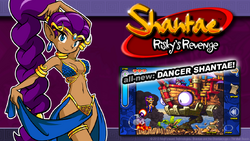 On July 15, 2014 the Steam version of the game was also updated with the Dancer costume now being featured in its own unlockable standalone mode, the "Magic Mode", as well as enjoying a little redesign. The mode also features its own dialogue portraits for the costume.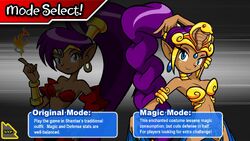 Reception
Edit
Shantae: Risky's Revenge has achieved critical acclaim, with many reviewers saying that this is the best DSiWare available, achieving a 92 on Metacritc[5] and a 93 on Gamerankings.[6] Critics praised the game for its beautiful visuals, excellent soundtrack, and an old school style that felt familiar to Castlevania and Metroid, but with fresh new ideas.[7] One common complaint was aimed at the poor map system.[8] IGN called it a labour of love, a sequel that doesn't disappoint.[9] IGN later gave IGN Shantae: Risky' Revenge the Best Visuals Award[10] and Best DS Game for 2010.[11]
| Role | Name |
| --- | --- |
| Shantae created by | Matt and Erin Bozon |
| Developed by | WayForward |
| Tyrannical overlord | Voldi Way |
| Consigliere | John Beck |
| Executive Producer | Chris Watson |
| Technical Director | James Chan |
| Director/Producer | Matt Bozon |
| Lead Programmer | Michael Clasgens |
| Programmers | Aric Dorschner, Ian Small |
| Additional programmers | Adam Kasper, Adam Lutz, George Mathews, Larry Holdaway, Robert Koshak |
| Engine and tools | Jonathan Rucker, Stephen Foot |
| Lead Animators | Marc Gomez, Rob Buchanan |
| Animators | Chris Kerlegon, Joakim Sandberg, Paul Robertson, Eunhi Oh |
| Additional animation | Danny McGillick, Randy van der Vlag |
| Pixel Modelers | Gustav Kilman, Andrew Bado |
| Lead Background Artist | Henk Nieborg |
| Additional background art | Sven Ruthner, Jeremy Dower |
| Audio Guy | Jake Kaufman |
| Voice | Meagan Glaser |
| Level Design | James Montagna |
| Technical Artist | Nick Wozniak |
| Illustrations | Paul Castillo, Chris Engle, Alex Ahad, Robert Case, Mariel Cartwright, Jason Robinson |
| Production Assistants | Shannon Hatakeda, Andy Crim |
| Quality Assurance Lead | Michael Flores |
| Quality Assurance Testers | Chris Anderson, Josette Dziuk, Nick Malouf, Ryan Wright, Steven Kitzes, Kyle Sellers, Joe Carlo |
| Contributors | Chris Losorelli, Sean Velasco, Adam Tierney, Robb Alvey, Mark Bozon, Matthew Zitterman, Ed Glaser, Kristina Kaufman |
| iOS Lead Programmer | Nate Trost |
| iOS Art Assistant | Jessie Seely |
| iOS Production Assistant | Shannon Hatakeda |
| iOS Public Relations | Jordan Mayer |
| iOS Community Manager | Aaron Thornton |
| iOS Quality Assurance Lead | Chris Anderson |
| iOS Quality Assurance Testers | Michael Flores, Josette Dziuk, Matthew Hull, Nick Malouf, Chris Schroeder, Steven Kitzes |
| iOS Contributors | Austin Ivansmith, James Maxwell, Jeff Pomegranate |
| Director's Cut Director | Matt Bozon |
| Director's Cut Producer | Christopher Shanley |
| Director's Cut Assistant Director | James Maxwell |
| Director's Cut Programmer | Matthew Religioso |
| Director's Cut Additional Programming | Adam Rademacher, Nate Trost |
| Director's Cut Engine and Tools | Shane Calimlim |
| Director's Cut Animator | Rafael Ventura |
| Director's Cut Art Assistant | Jessie Seely |
| Director's Cut Illustrator | Kristen George |
| Director's Cut Contributors | Austin Ivansmith, James Montagna, Jeff Pomegranate |
| Director's Cut Quality Assurance Manager | Jeremy Pryer |
| Director's Cut Quality Assurance Lead | Michael Flores |
| Director's Cut Quality Assurance Testers | Chris Anderson, Robbie George, Georgeina Schaller, Timothy Vinton |
| Director's Cut Additional Quality Assurance | Joe Carlo, Josette Dziuk, Steven Kitzes, Nick Malouf, Kyle Sellers, Ryan Wright |
| Director's Cut Director of Consumer Engagement | Brandis Hulett |
| Director's Cut Public Relations | Jordan Mayer |
| Director's Cut Community Manager | Aaron Thornton |
References
Edit