The Steam Engine is an important object in Shantae.

An ancient technology that was discovered by
Mimic
shortly prior to the events of
the original game
. He found the plans to it in an ancient vault on his most recent expedition and began building one. It was almost finished when it was stolen by
Risky Boots
's
Tinkerbat
minions.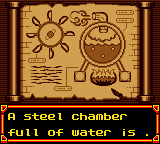 It is comprised of a steel chamber that, when filled with water and heated, will cause steam to come blasting out with enough force to power a wheel indefinitely.
It has the potential to provide an immense amount of power when enhanced by the Elemental Stones and is thus an extremely important and dangerous artifact. Even on its own, it has the potential to change the world, according to Mimic.
Ad blocker interference detected!
Wikia is a free-to-use site that makes money from advertising. We have a modified experience for viewers using ad blockers

Wikia is not accessible if you've made further modifications. Remove the custom ad blocker rule(s) and the page will load as expected.