Hi Shantaerians!
Well, WayForward is not making our lives any easier, first they leave us away for weeks without news and we have to find filler news to keep the crowd satiated, and then they shower us under a bunch of stuff at once!
Well, ahem, anyway. The Kickstarter has been updated with heavy news, all good except one. First, we have a vid of gameplay from Shantae: Half-Genie Hero! Our contributor Entity1037 posted it already on the HGH page (thanks, man!) and here it is:
Next. WayForward just acknowledged our progress with the PayPal campaign, as they said Hero Modes WILL happen! Of course, we still have a little less than $7K to fill before that, but they are just as confident as we are that we'll make it! With it, WayForward declares that the game has more than doubled its size from their original vision. Unfortunately (yes, that's where the bad news is), it means more development time. Say bye bye to the release date in October 2014, but personnally, I never believed it in the first place. Remember to help fill the missing cash to reach Hero Modes before we can call it a thing, here's the current result:
There are also funny details about how, more or less, the game will play with Sky, Bolo, Rottytops and the alternate costumes of Shantae and Risky Boots. Go read the Kickstarter update for details, because I'm getting lazy :P
Finally, WF confirms that the voting campaign will start soon (When I say they just threw everything in at once... )! Before that, however, they are launching a test vote in which WE the contributors have to decide the design for the Archer! You know, that chick in Shantae and Risky's Revenge who just throws arrows at you and stand still until you've whipped her away.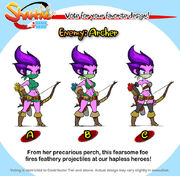 I'm not going to try to influence your vote, you know just as well as me that C is the best design. To vote for C, go to the WayForums, log in, open this topic from the HGH contributors section:
https://wayforward.com/wayforums/topic/shantae-half-genie-hero-vote-1-archer/
Just check "Archer C" below the picture and click on "Vote" and yup, you're done! Of course, you could also try to vote for the two other lame designs, just to see the result... ;) Votes are open until 08.19.14 16:05 PDT.
Well, that's it I guess (phew!), stay tuned for more!
Ad blocker interference detected!
Wikia is a free-to-use site that makes money from advertising. We have a modified experience for viewers using ad blockers

Wikia is not accessible if you've made further modifications. Remove the custom ad blocker rule(s) and the page will load as expected.