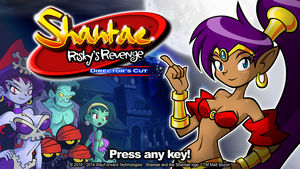 Hello Shantaerians!
Another piece of news many of you were craving for: the release date for Risky's Revenge on Steam! WayForward just announced that the game would be released next week on July 15! Full announcement here:
https://www.kickstarter.com/projects/1236620800/shantae-half-genie-hero/posts/904919
The game will come in a Director's Cut edition, which content is still unclear at the moment, but expect more info very soon!
Ad blocker interference detected!
Wikia is a free-to-use site that makes money from advertising. We have a modified experience for viewers using ad blockers

Wikia is not accessible if you've made further modifications. Remove the custom ad blocker rule(s) and the page will load as expected.